MRCEM OSCE Crash Course
An MRCEM OSCE crash course for all doctors appearing for part C exams this year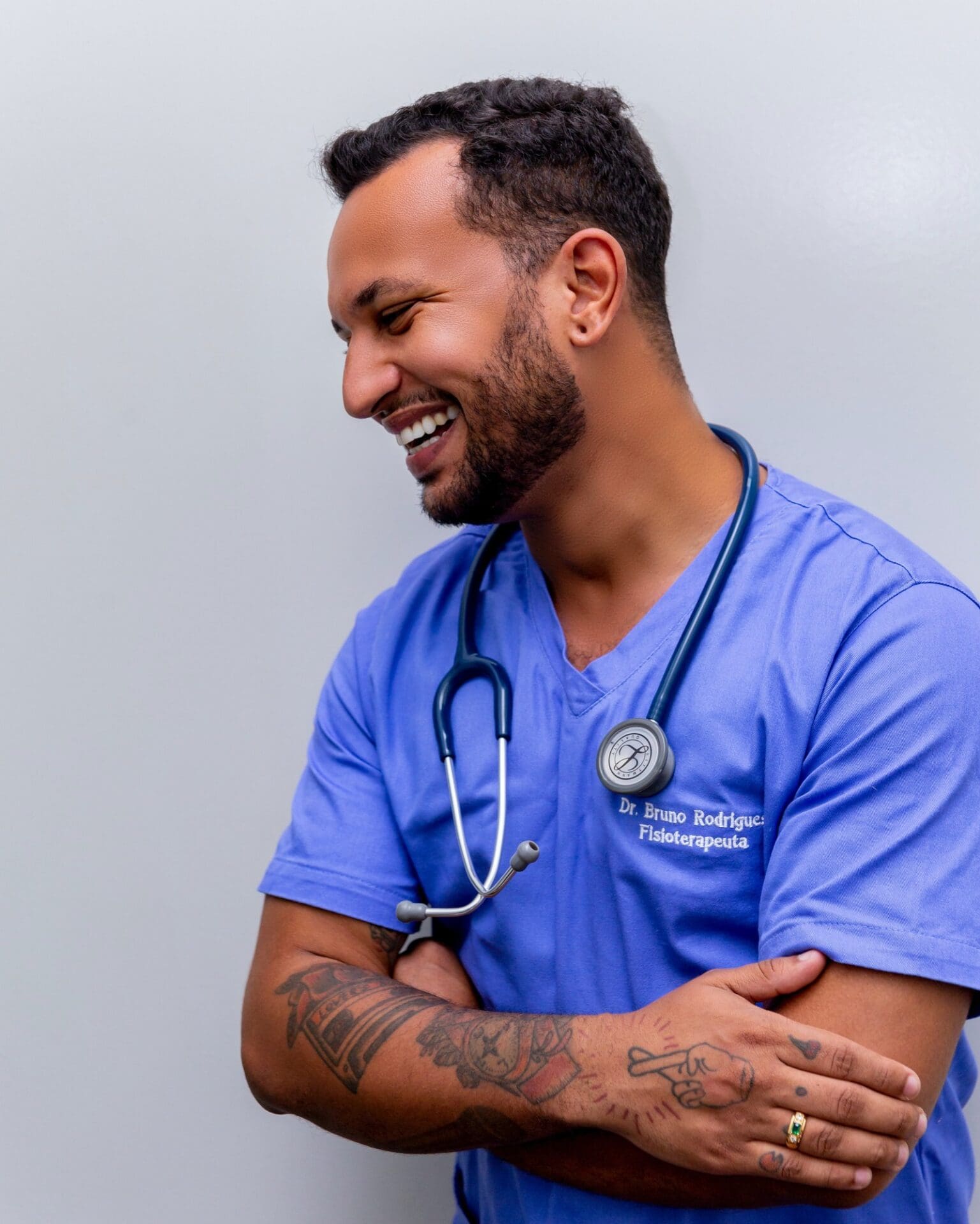 Ace your OSCE Exams with our Crash Course
The training faculty for this crash course consists of highly experienced and trained doctors who will help you ace your OSCE exams.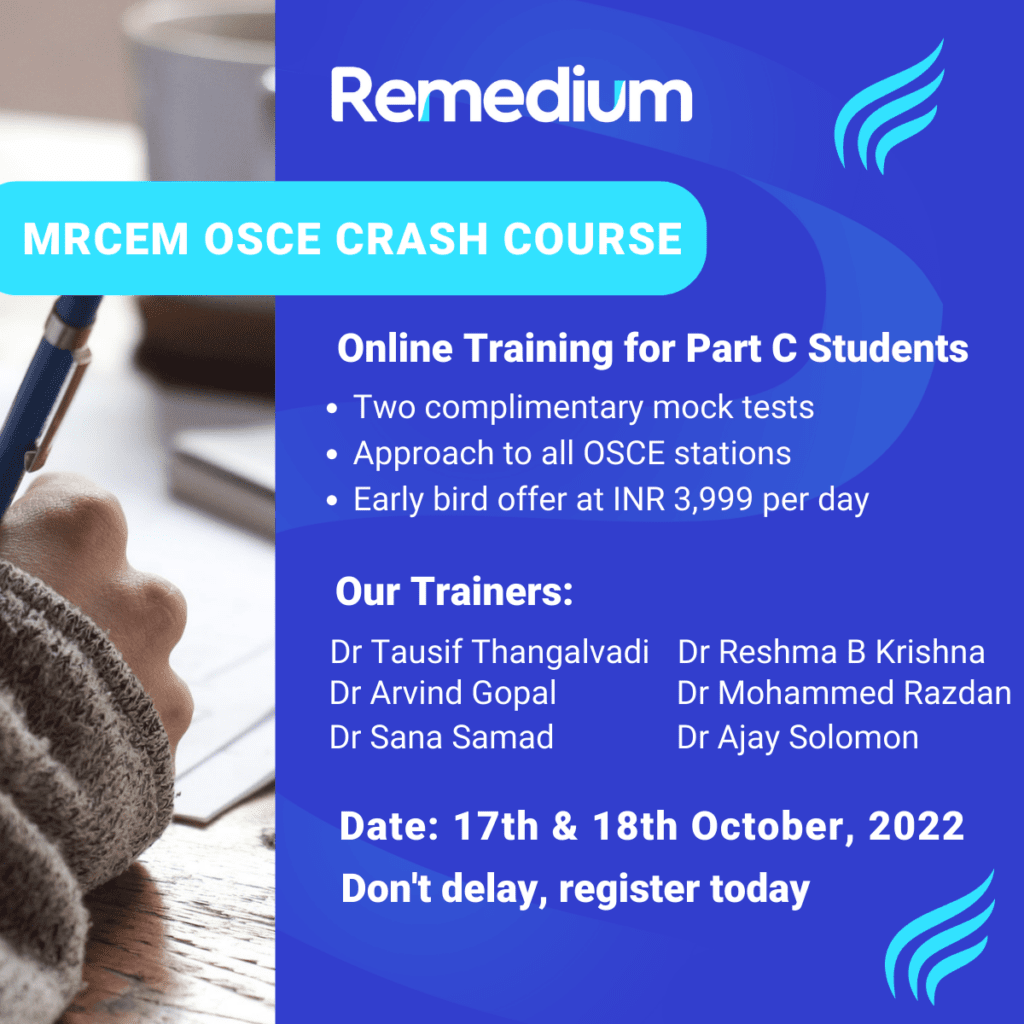 1. Online training provided by expert faculty and subject matter experts
2. Approach all OSCE stations as per the RCEM curriculum
3. Two mock exams will be complimentary for every candidate
4. Dates and times: 17th & 18th October 2022 – 10am – 5pm (IST)
5. Course fee structure:
Discounted price for early birds: INR3999 per day
After October 5th: INR4499 per day
Please register to attend the MRCEM OSCE crash course using the following form. Upon registration, you will receive an email which will direct you to our payment facility.
You can learn more about our expert faculty below.
MD, MRCEM(UK)
Medical Director and GM, Nura AI Health Screening Centre, Bangalore
MRCEM (UK), Masters in Emergency Medicine (GWU-USA)
Specialist, Emergency Medicine, BMH Calicut

Masters in Emergency Medicine (GWU-USA)

Specialist, Emergency Medicine, BMH Calicut
ST6, FRCEM (UK) 
Oxford University Hospital – John Radcliffe 
MRCEM (UK)
Specialist, Emergency Medicine, BMH Calicut
MRCEM (UK) 
Specialist, Aster Mother Hospital 
"I am writing in support of Mr Dhillon.
We have developed a good working relationship since I first liaised with Remedium two years ago and with his help engaged some excellent international trainees to work with us, whom he has supported into post. He has also formalised a relationship with my Trusts procurement team that will facilitate further appointments in the future.
I look forward to continue to work with him and Remedium on the back of this into the future."
Dr. Kayode Adeniji
ICM Faculty Tutor Academic Department of Critical Care - Portsmouth University Hospital NHS Foundation Trust
"Another agency got me a job that did not meet my ambitions and did not support my career progression. The work environment was also quite toxic and I felt trapped. I immediately discussed my ordeal with Marlon who clearly understood my frustrations. He sprang into action and found me a job that was tailored specifically to my needs. I'm currently working in my new hospital and I am at so much peace! The work environment is excellent, lots of support for career growth. I couldn't pray for more. You guys rock!"
Dr. O. Oduneye
Paediatrician - Middle Grade
"I am really impressed with your support and care regarding my job here, especially during the testing times of the corona pandemic. I would recommend Remedium to whoever is interested in working in the NHS as a doctor."
Dr. R. Purohit
Obstetrics and Gynaecology Doctor - Middle Grade
"No words can express my gratitude to Mr. Marlon Algura and his fantastic team. They made the process easy and enjoyable. They are not only looking for a job for you but for the most suitable job for you and the best place for your family. I will recommend to anyone who is looking for a successful relocation to the UK."
Dr. H. Elsayed
Paediatrician - Senior Clinical Fellow
"Meticulously professional is the phrase that comes to mind."
Dr. P. Devapal
Paediatrician - SHO
"The teamwork in Remedium is really commendable and I will strongly recommend your organisation to anyone. I am so proud to be associated with your great team."
Dr. L. A.
Paediatrician
"Marlon and his entire team has been extremely polite and helpful in the process of helping me find a job in the UK. He is readily available to answer all your queries and tries his best to solve them."
Dr. P. Saha
Paediatrician - SHO
"I would definitely recommend new doctors seeking to work and progress their career in the NHS to take advantage of Remedium's services and to make their life easy."
Dr. A. Kumar
Emergency Medicine Doctor - Middle Grade
Register with Remedium today
Upload your details and CV so we can match you with the perfect role.